When it comes to fleet and trucking security, Fleetwatch Systems stands in a class of its own. From the onset, the company has been focused on driver safety and risk management security.

If increasing insurance premiums or equipment and cargo theft are problems faced by your company - or if you simply need greater confidence in the integrity of your operations; then Fleetwatch Systems delivers the goods with FleetSentinel™
Standard and optional security features range from product sensors to alarms and sirens to digital fences. With effective monitoring and theft deterrents, it's like having your own security guard at any piece of equipment or cargo in your fleet.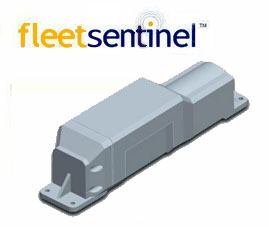 Discrete Security and Tracking Sensors
Our discrete wireless theft prevention devices are ideal for mobile heavy machinery and high value equipment, such as: generators and construction machinery or for cargo and shipping containers.
With Fleetwatch Systems' FleetSentinel™ critical security and location information is collected by a vehicle-mounted device, communicated wirelessly by GSM cellular and/or satellite, and served to the customer online via Fleetwatch's internet application - Fleetcare™ Software as a Service(SaaS) platform.
Fleetwatch Systems Secure Technology that puts
Your Company in Control.
FleetSentinel™


Discrete Wireless Tracking and Security Alarms Device
FleetSentinel™
Discrete Wireless Tracking and Security Alarms Device
FleetSentinel™ provides you complete visibility and real-time awareness through advanced wireless mobile asset security and location data 24/7.
You always know equipment and cargo security status, the actual location of your asset, if a violation has taken place, or if there is an exception to your pre-determined business rules. We provide full end-to-end visibility into every aspect of the cargo delivery and management process.
FleetSentinel™ for asset tracking and security gives operators a new level of protection against theft while providing improved efficiency for overall management of logistics, asset utilization and distribution.